Summer is here! Which means it is time to book your 30A vacation. Here are the best tips for planning the perfect 30A vacation for 2022.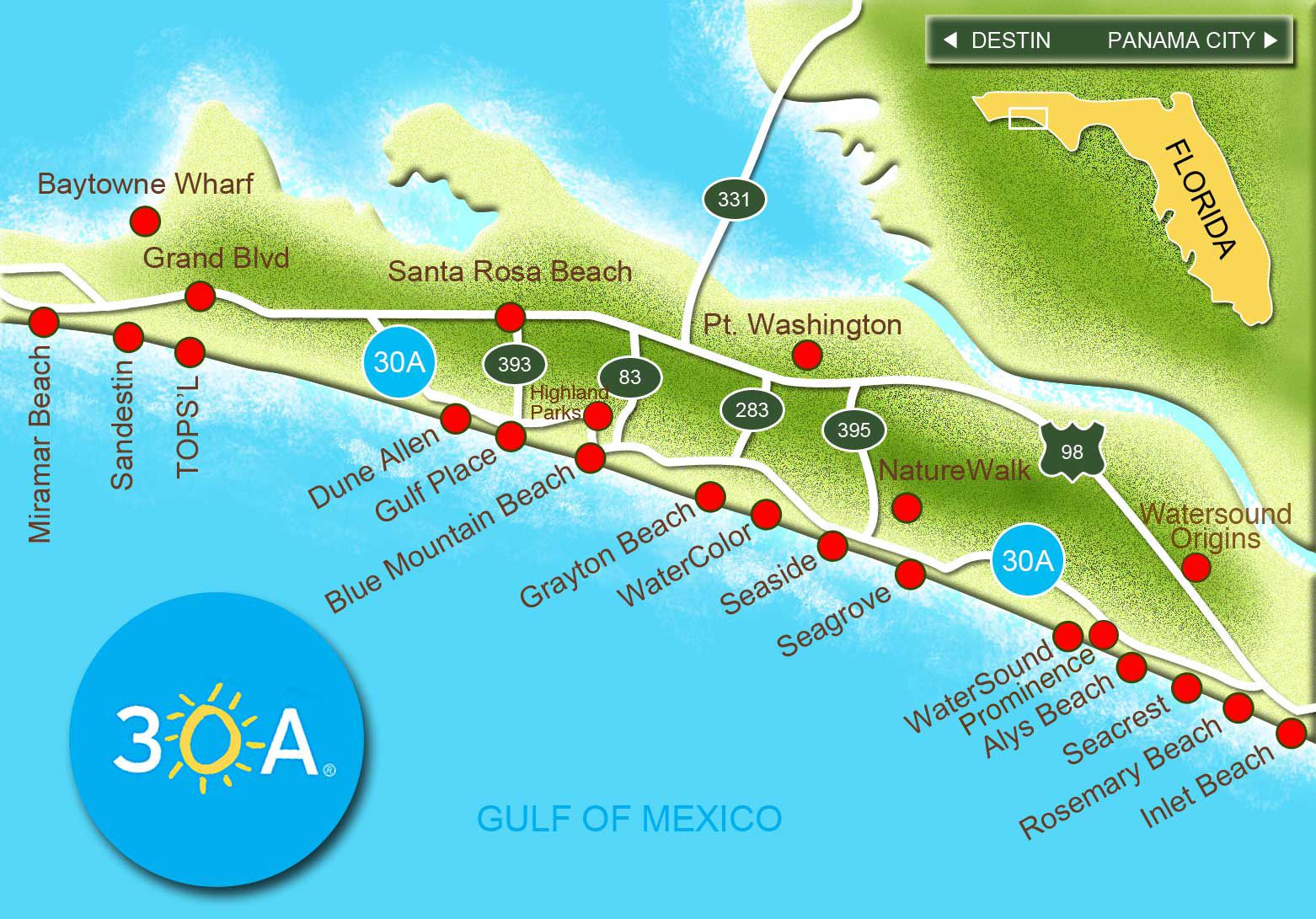 1. Plan early and decide which beach town you'd like to stay in this year! PRO TIP: Each year stay in a different beach town to explore and experience new areas of Northwest Florida.
If you want to vacation on 30A during the summer, you must book in advance especially when it comes to accommodations. 30A is full of popular beach towns and dates fill up quickly in all. Another factor is that there are very few hotels on 30A. The lack of high-rises and hotels along the beach is one thing that makes 30A so unique. White sand, pristine beaches remain largely undeveloped, showcasing their natural beauty.
The majority of visitors prefer to stay in the charming 30A cottages and vacation rental homes throughout the area. Many of the popular vacation homes in Seaside, Rosemary Beach, and other small 30A communities are booked over a year in advance! If you have special dates in mind or need specific accommodations or amenities, it's even more important to plan ahead. If you've been eyeing a particular 30A beach cottage all year, don't wait until the last minute to pull the trigger on booking.
Do you need to plan a flight to 30A? Read this article on which airport is closest to 30A.
2. Book the perfect 30A vacation rental home.
When you're planning a 30A vacation, one of the first items on your list is finding a place to stay. Booking ahead is #1 but finding the right place to stay is a close #2. With boutique hotels, cozy seaside cottages, and numerous charming beachside communities, there are so many options and ways to stay on 30A.
Here are some things to consider before booking:
Location:

Do you want to be right on the beach or in the heart of town? 30A is a small area so you just might be able to get the best of both worlds. Do you have a specific 30A town in mind? Maybe you want to cross Rosemary Beach off your bucket list. Location plays a big part in where you choose to stay on 30A.

Price: A big part of the price is how many people you're bringing and subsequently how many bedrooms you need to sleep everyone comfortably. But that's not the only thing that influences price. Renting a home right on the beach will cost more so why not take a short walk or bike ride to the beach to save some money? Book on weekday nights instead of over a weekend and find other ways to make your budget work.

Transportation:

How do you want to get around town? Most locals and visitors love to take to their bikes for transportation. If you're not right on the beach, do you have a plan to get there? Some communities have a free beach tram service during the summer. Maybe you need to rent a bike or car for your stay. Does the home have parking?

Other factors:

Are you bringing a pet? Here's a link to pet-friendly 30A vacation rentals.
Do you want access to a pool? Be sure to find a home with the amenities you're looking for.
3. Pack smart.
When it comes to packing, you'll want to cover the basics but don't forget beach essentials like good swimsuits, sunglasses, sunscreen, a wide-brimmed hat, good book, beach clothes, and comfy sandals. If you're traveling with the kids you may want to bring along beach toys or boogie boards.
Be sure to read the amenities provided at your 30A vacation rental home as many of them include essentials like beach chairs, towels, and even a beach wagon to easily bring your things to the beach. Many of our Love to Stay 30A rental homes include beach bikes, too! That's the preferred mode of transportation on 30A.
Some things you may also want to consider bringing are:
A waterproof speaker
A cooler for drinks (no glass on the beach)
A mesh bag to easily shake the sand off your things
A big beach blanket
Beach umbrella or tent for shade
Love vacationing along 30A and want to purchase your very own investment property? We can help. Call or message us for a listing of available properties in your budget: Brian K. LoCicero, REALTOR® or Andrew E. LoCicero, REALTOR® at (850) 739-3800
Special thanks to our friends at Love to Stay 30A for the tips. Reach out if you want to rent a vacation home in the 30A area.